Morale-boosting support and collaboration are helping Welsh food and drink companies overcome the challenges of Covid-19 and maintain their winning ways.
Despite a turbulent six months, a host of Welsh producers have proved the excellence of their products with a 'galaxy' of stars in the Great Taste awards.
Many of the winners have been supported by Food & Drink Wales and its Cluster initiative, which fosters connections between businesses in the sector.
Both the Fine Food Wales Cluster and the Seafood Wales Cluster are facilitated by the Cywain project. Delivered by Menter a Busnes, the Cywain project supports the development of growth-orientated businesses in the food and drink sector in Wales.
Soon after the start of the pandemic, Cywain launched the #SupportLocalSupportWales campaign. This is accompanied by an online map which directs to food and drink producers from across Wales who can provide an online shop and delivery service.
Clusters Team Leader, Sioned Best, said "We recognise how difficult things have been over the past months, and through the clustering programme, we have been supporting our clients in a variety of ways. 
"We will continue to help them mitigate the new challenges posed by Covid-19 and encourage and support them as they establish and grow their enterprises.
"Their success at the Great Taste awards demonstrates the skill and tenacity of Welsh businesses who despite extraordinary circumstances continue to develop and produce outstanding food and drink."
Lesley Griffiths, the Minister for Environment, Energy and Rural Affairs, said, "I congratulate all the Great Taste winners on their success, during a year which has been like no other.
"Their achievements are a reflection of their talent and the quality of Welsh produce. These awards also underline the importance of the support network available to food and drink producers across Wales, as we continue to live and work in the most challenging of times."
CASE STUDIES
The following Welsh producers tasted triumph at the 2020 Great Taste awards.
MÔN DRESSED CRAB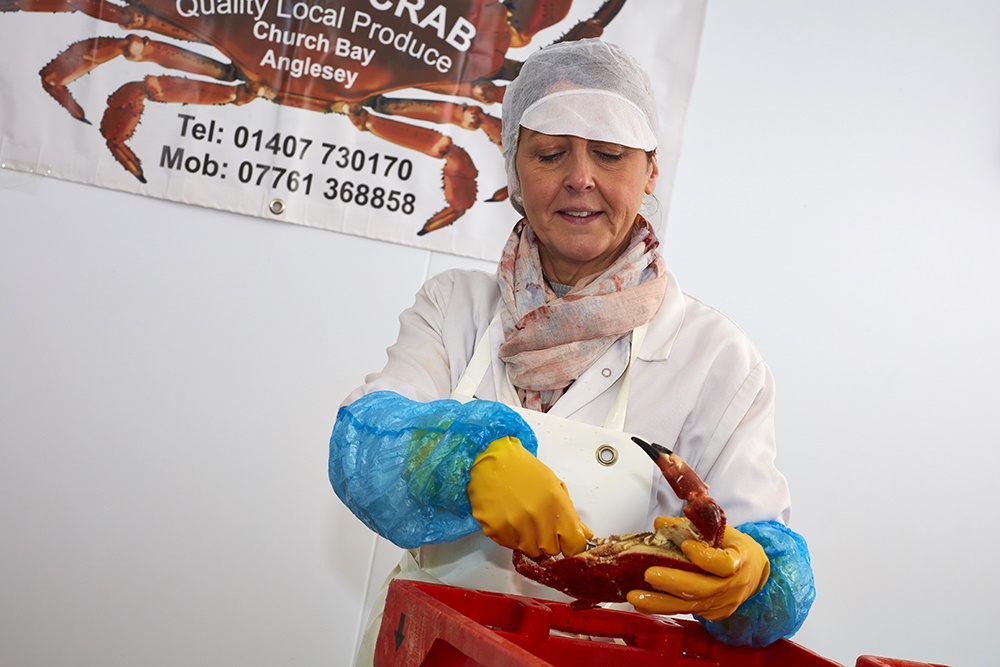 The small family business started five years ago when Tracey Hodson began cooking a few locally caught crab for friends and family on Anglesey.
It wasn't long before restaurants, and local eateries became interested, and Môn Dressed Crab took off.
Tracey explains, "We've got a small processing unit in Church Bay, and I buy the crab from the fishermen who land their catch here.
"I'd never entered any awards before, but Sian Davies at the Seafood Cluster encouraged me to give it a go. She's always been a great help, so I took her advice – and we won a Great Taste two-star gold!"
The advent of the coronavirus pandemic and subsequent restrictions has brought changes for Môn Dressed Crab, but it has brought new customers too.
"When lockdown came our trade with the restaurants stopped, so I thought I'd better do something. So, I started using social media to reach the public, and we've been flat out with deliveries.
"With restaurants starting back up we couldn't do all the home deliveries, but we wanted to keep our new customers so now they collect from us.
"Back in March, I didn't know if we'd be able to carry on, but we've got new customers and an award which we didn't expect!"
More information: Twitter: Mondressedcrab
DWYFOR COFFEE COMPANY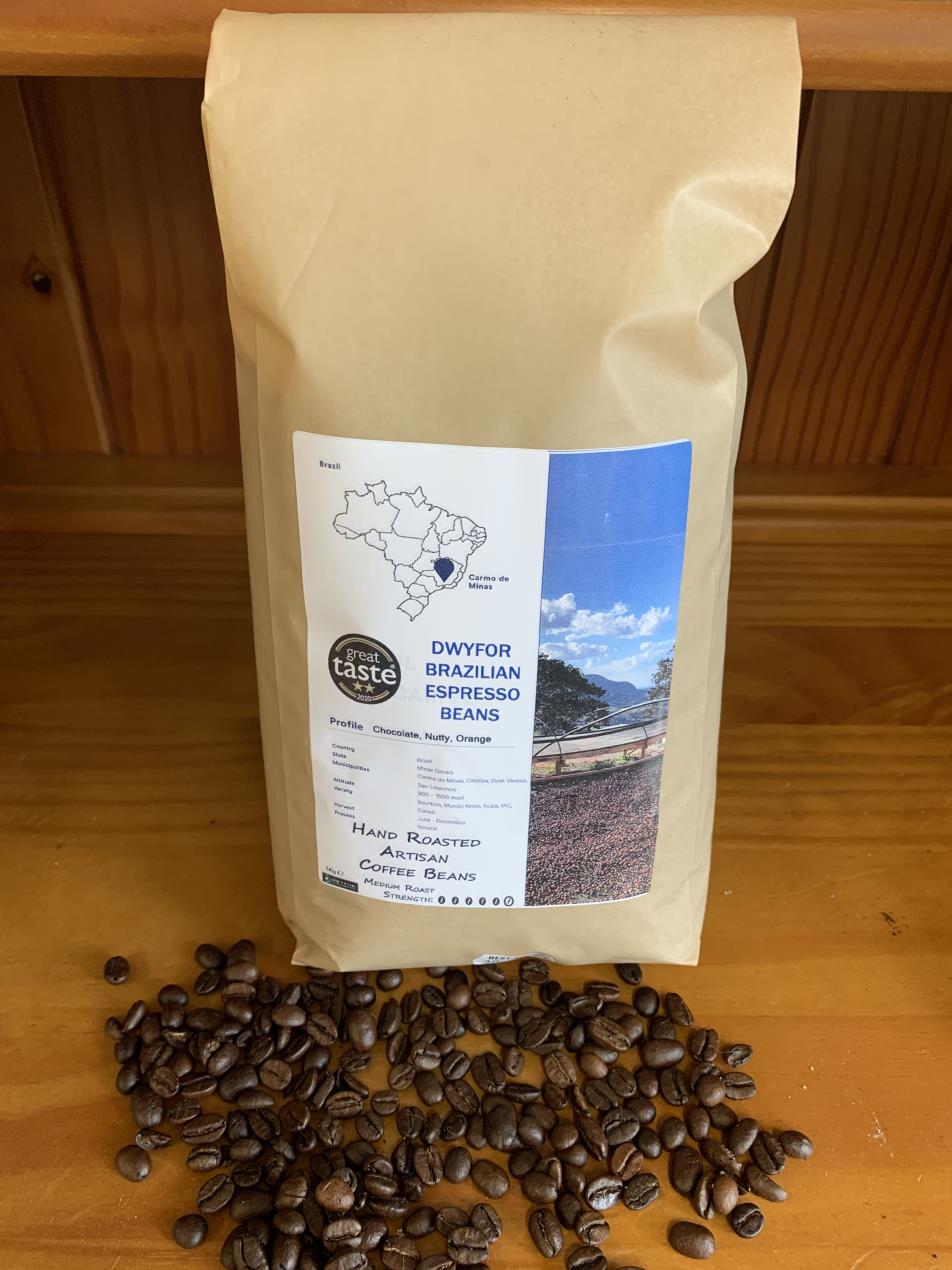 Years spent living and working abroad introduced Michael Squire to the diverse world of coffee, at a time when the majority of coffee drunk in the UK revolved around frothy cappuccinos.
His palate expanded by his travels – and with advice from a coffee blender friend – Michael began roasting coffee in his garden shed on the Llŷn Peninsula.
Eighteen years later, the Dwyfor Coffee Company employs nine staff at its roasting HQ in Nefyn and has just had its first taste of success at the Great Taste Awards, receiving a two-star for its Brazilian Espresso Blend.
There have been highs and lows over the past six months, but after an initial 'knock' at the beginning of the pandemic, sales – particular via the internet – have taken off.
Michael says, "Working directly with coffee importers and planters we've bought in small batches of world coffee, and these sales have gone mad over the last three months. People's habits have changed; they are more discerning and want to try different coffees."
Being part of the Fine Food Cluster, Michael believes, brings a variety of benefits – from networking and collaborating with other producers in home delivery ventures to spreading the word about the raft of food and drink Wales has to offer.
He says, "The Cluster has been very useful. It's put us in touch with fellow producers, and we have been able to help each other. There's increased awareness too of Welsh products, and receiving awards such as the Great Taste emphasises the quality of Welsh food and drink."
More information: www.dwyfor.com
TERRY'S PATISSERIE LTD
Family-run Terry's Patisserie Ltd is celebrating its seventh consecutive year of Great Taste awards.
Terry Williams started the Caerphilly based business in her home kitchen in 2011 and now the company supplies its desserts to top-end hospitality industry customers UK-wide.
However, the events of the past six months have led to the business – which employs a team of pastry chefs at its Aberbargoed production unit – to re-think part of its business model.
"We completed our expansion project in March, and it took us from 800 sq. ft to 4,500 sq.ft. But it wasn't perhaps the best of timing," says Rhys Williams the company's Business Development Director, and Terry's son.
"However, we have adjusted our operation, and we will be launching a new retail click and collect facility using customers, mainly cafes and tea shops as 'high street hubs'.
"They are premises we already supply, but until now our desserts have not been branded or available directly to the public. Now people will see the Terry's Patisserie name while winning another two Great Taste awards will demonstrate to consumers the quality of our products."
A member of the Fine Food Cluster, Terry's Patisserie has received a variety of practical advice, as well as morale-boosting support during a turbulent 2020.
"In particular, the Cluster has helped us stay connected and put us in touch with other companies in a similar situation. It is reassuring to know it is not just happening to you, and it has been a massive help to have their support."
More information: www.terryspatisserie.co.uk